Firefighting gloves with GORE-TEX inserts are certified according to EN 659 and the right decision for structural firefighting. Due to the incorporated GORE-TEX glove inserts they are durably waterproof and highly breathable. The inserts not only provide protection against water but also prevent the thermal insulation of the protective glove from becoming damp or soaked. At the same time the GORE-TEX Glove insert is thermally stable and remain functional intact even after excessive heat exposure. And finally, the GORE-TEX glove insert is resistant to exposure to common fire ground chemicals as specified in EN ISO 6530 and extremely hard wearing.
Benefits of GORE-TEX inserts:
Durably waterproof, breathable and thermally stable inserts
prevent the insulation from becoming damp or soaked;
prevent increased heat transfers as a result of damp or soaked insulation (risk of scald or burn injuries is therefore lower)
protect against spatters of defined chemicals in accordance with EN 659
offer enhanced wearer comfort and lighter gloves due to lower water pick-up
are washable
Two different GORE-TEX inserts
There are two different GORE-TEX inserts used for firefighting gloves:
GORE-TEX 3 layers
Firefighting gloves with 3-layer GORE-TEX glove-inserts are ideal for the regular deployment of the fire brigade. The GORE-TEX inserts are shaped like a glove and have adhesive seams. They have special sewing tapes that are used to fix the insert with the outer fabric and the insulating inner lining of the protective glove.
GORE-TEX + Gore grip technology
If there is a higher degree of tactility and a firm grip required, GORE-TEX gloves + Gore Grip technology are the ideal solution. The insert is an extremely thin, robust, single-layer GORE-TEX membrane shaped like a glove. This insert features heat-sealed seams, which are soft, supple and barely noticeable to the wearer. The entire glove insert is fully bonded to the inner lining and permanently connected to the protective glove's outer material. Because the inside layers do not slip, gloves are easier to don and doff. For the wearer, this means greater dexterity even while wearing a glove, and a much more secure and precise grip on equipment.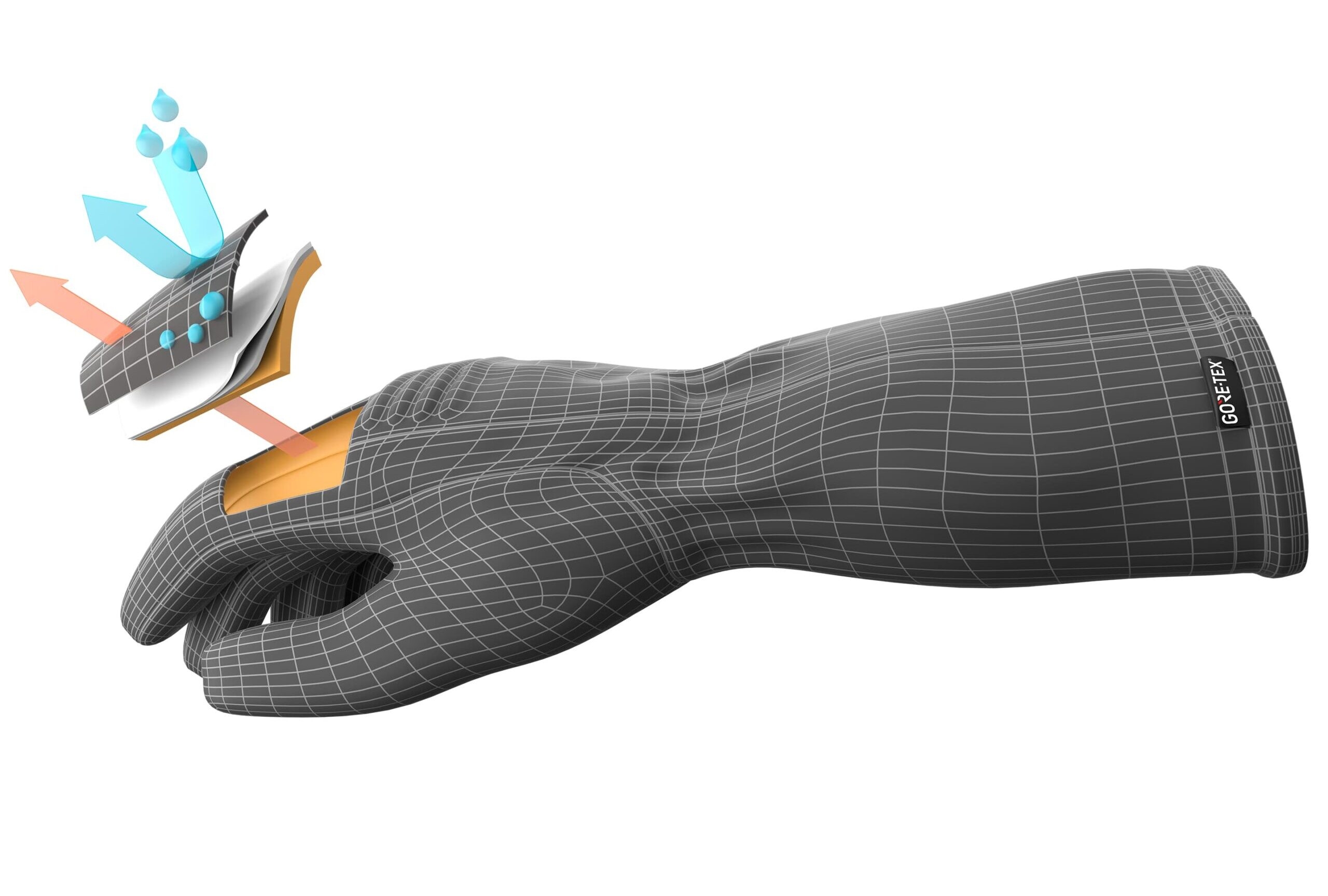 Gloves with GORE-TEX Inserts