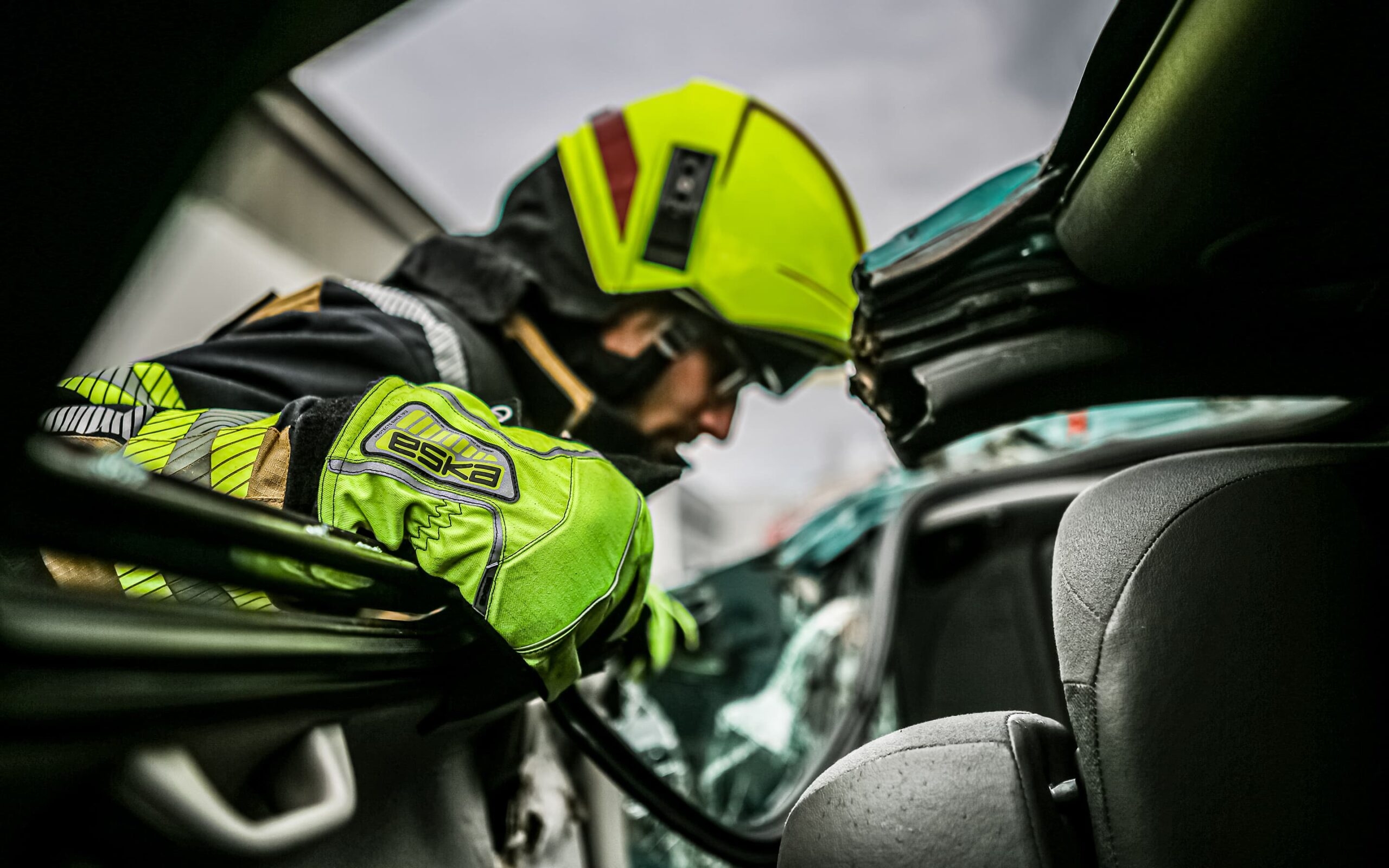 Gloves for technical assistances
The function of technical rescue differs from indoor firefighting. The technical assistance includes the rescue of an injured person due to a car accident. What is more, technical assistance means securing, lifting, moving of loads. In case of emergency a tight grip, tactility and cut protection are in demand. Thereby no firefighting norms like EN 659 are needed, but the protection against mechanically risks according to EN 388 is utile. The protection against abrasion, cut and stab is in very important in case of car accidents as sharp-edged elements are a result. Therefore the DGUV (German Social Accident Insurance) recommends level 3 when it comes to abrasion, tear resistance and stitch protection. Cut resistance is located in level 2.
Cut-resistant gloves
Higher performance levels are very important when it comes to cut resistance (minimum level 2). All of our ESKA technical rescue gloves surpass the minimum requirement of the performance feature cut resistance by far, as they reach level 4 and the maximum level 5. Fire fighters and rescue services are best protected by our maximum cut resistance values.
ESKA technical assistance gloves

Uncompromisingly and safe, 100%.

Our protective gloves for technical rescue require best wearing comfort and grip. Due to the continuous development the gloves get constantly better and better in comfort and safety. In the technical rescue glove Prutos 5F a revolutionary cut-resistant lining is incorporated, which provides a high-performance protection against cuts and sharp edges (highest cut resistance level 5, TDM ISO 13997: Level F). The ESKA developed RescutTM Fire material in the palm of the gloves Flash Pro GTX and Flash requires best protection against abrasion and tactility. Furthermore, the anti-static backhand material of the technical rescue gloves is flame-retardant and protects against exposure to flame (burning behaviour level 4 certified according to EN 407) as well as flying sparks. All ESKA technical assistance gloves protect compromisingly in traffic and work accidents – at 100%.