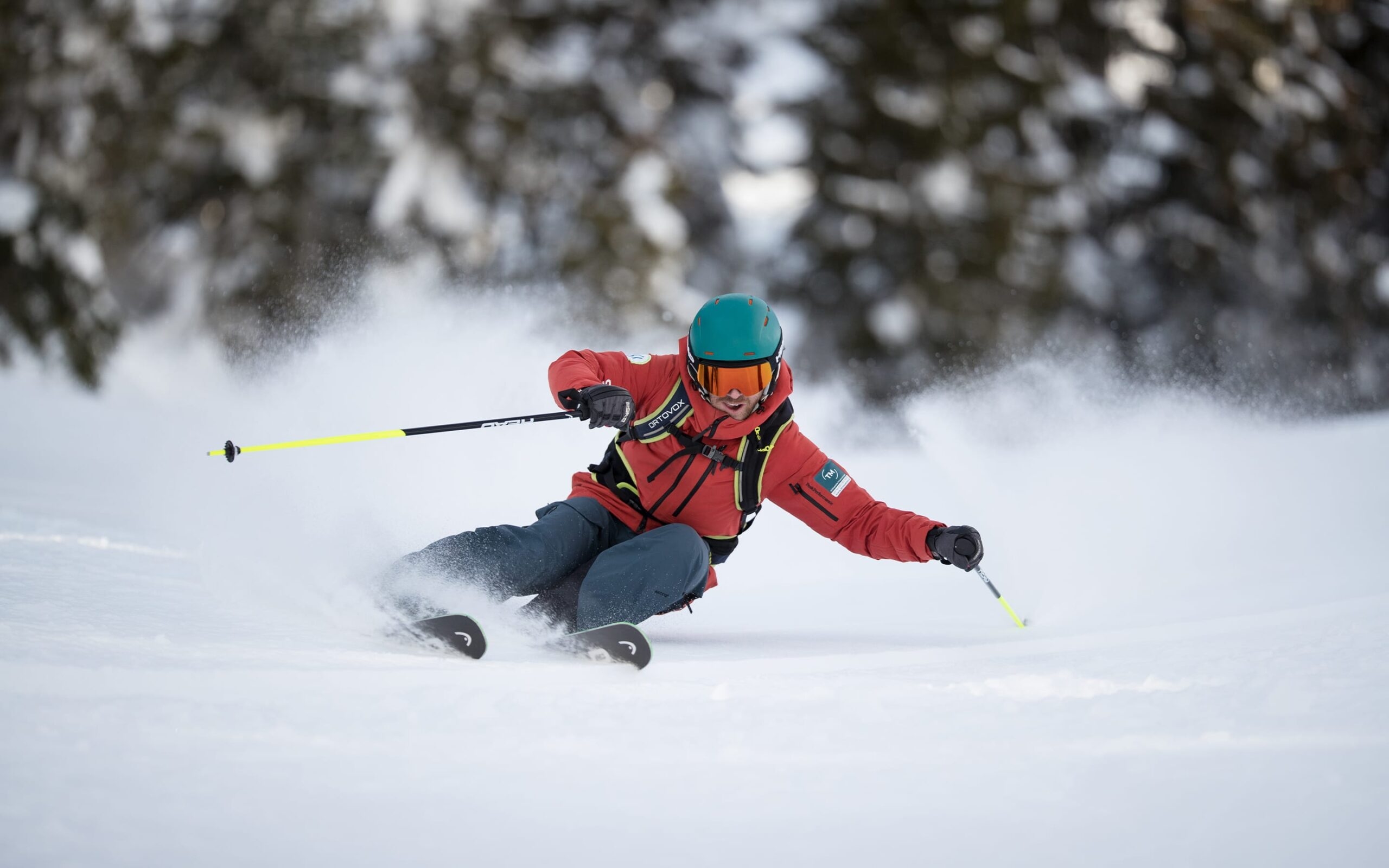 #Sports
Which ski glove is the right one for me?
The hand is with its 27 individual bones the most elementary tool of every human. Basically, you can't do anything without your hands. That's why we at ESKA aim to protect your hands best possible in every life situation.
So if you spend the winter in the mountains or in the snow, it is very important, to protect the most sensitive parts of the body – our hands. For many people the question is: which ski glove is the right one for me? But the question should be: Which glove is the right one for what kind of activity?
Let me say right away – we did not yet develop the perfect glove for ALL activities. But the Arktis GTX comes very close to this. 😉
Here some tips, which will help you to choose the right glove:
Glove or mitten?
The sensory feel for heat is different among humans. But in general mittens are a little bit warmer than finger gloves. Why that? Inside the mitten the fingers are not separated, so they can warm each other better. Nevertheless, everyone knows that it is easier to grab something with a glove than with a mitten.
But there are not anymore only mitten and finger gloves. It depends on your preference. By now there are mitten with fingerliner, 3-finger-gloves and also combinations of a finger glove and a mitten.
Waterproof or water resistant?
Waterproofness is a huge purchase criterion for some people. If you spend the winter on the slopes or in mountains, no matter the weather it is highly recommendable to buy a glove which is 100% waterproof. If you only go skiing when the sun is shining a water-resistant glove will be the best choice. The shell fabrics of all our gloves are hydrophobic (breathable laminated) and thus water resistant. Sometimes a waterproof membrane (also called insert) can affect the breathability.
Long or short cuff?
This is really a matter of feeling. There are skiers, who like to wear the gloves above the jacket, therefore a glove with a long cuff would be the best. Our models are equipped with a cordstopper, with this you can fix the cuff above the jacket and no snow can enter the glove. If you like it more to wear the glove underneath the jacket, we would recommend a short or tight cuff.
How warm should my glove be?
The filling of a glove is called insulation. One can imagine like cotton wool. The warmest natural insulation are down feathers. At the top of synthetic materials is PrimaLoft® Gold Insulation. The thicker a glove is insulated the warmer it is. This in turn effects the grip feeling. Hence gloves which afford a special tactility (for example an ice climbing glove) need to be less insulated than a glove for alpine skiing.
Thick down gloves are perfectly suited for every kind of expedition. Due to the constant movement during the ascent ski touring gloves are in turn hardly insulated. But as already mentioned the sensory feel of heat varies.
Do I need an inner glove?
If you are vulnerable for cold fingers but you don't want to waive the grip feeling of a finger glove it is better to wear a thin inner glove underneath the thick ski glove. Especially a glove made of silk suits best. Silk has an incredible transport of warmth.
Do I need a heated glove?
If you easily get cold hands or you're suffering from Raynaud-Syndrome we totally recommend heated gloves. At Raynaud-Syndrome the blood vessels contract spasmodically in the fingers and also in the feet, what is really painful. Especially at cold temperatures this can happen. It is possible to counteract this and prevent pain with heated gloves.
Also during expeditions and high alpine tours, it is advisable to use such a glove. Of course, everybody can benefit from warm hands in every situation with heating gloves.
Reinforcements
Some gloves have special reinforcements on certain parts. You will find these in the palm, on the thumb or on the fingertips. The reinforcements help to protect the wearer or rather ensure a long-lasting lifetime of the glove. If you are ice climbing and are handling with a rope, a reinforcement in the thumb area is really important. Would the rope rub directly on the glove, the stiches could tear up. Reinforcements in the palm prevent that the sharp edges of your snowboard or skis damage the material of the glove.
Gloves with protectors
Many people picture the classy snowboard glove with a protector, a hand splint, in the palm. This kind of glove is usually used by beginners, so that they don't get hurt during a crash at the wrist. A necessary protection is not only important for snowboarding, also our new racing gloves protect the knuckles with a carbon protector and the thumb area with a reinforcement made of soft foam.
Gloves for ski touring
On a skitour every gram counts, thus a gloves should be lightweight and should need less space in the backpack. Bei einer Skitour zählt oft jedes Gramm, daher sollten die Handschuhe besonders leicht sein und auch im Rucksack nicht zu viel Platz wegnehmen. Zum Aufstieg reicht den meisten ein dünner Multifunktionshandschuh, im besten Fall ein sehr atmungsaktiver, mit einem windabweisenden Obermaterial und viel Griffigkeit. Nachdem einem beim Aufsteigen oft warm wird und auch an den Händen zu schwitzen beginnt, ist es ratsam für die Abfahrt ein zweites, trockenes und – je nach Gefühl – wärmeres Handschuhpaar einzupacken. Schlüpft man in einen feuchten Skihandschuh, können sich die Finger nicht optimal erwärmen
What about the size?
A good glove is the one which fits like a second skin. The size is essential for a nice heat output. If the glove fits too tight, or there is no space between the fingertips and the glove, your fingers might get cold easily.  It would be ideal if there is space of about 0,5 cm between. It prevents that my fingers cool down and there is still enough grip feeling for holding or grabbing something. It's always better to try the glove on, because the sizes vary between the producers.
Before buying a new glove, you should be sure, for which activity you like to use the glove. If you are not sure – it is possible to filter our product overview page by activities. You can see immediately which glove suits best for certain activity. 😉